CEAP Residential Application Form (EN)
CEAP Residential Application Form (FR)
Email the completed form to customerservice@gsuinc.ca or print and mail the form to:
500 Regent Street, PO Box 250, Sudbury, Ontario P3E 4P1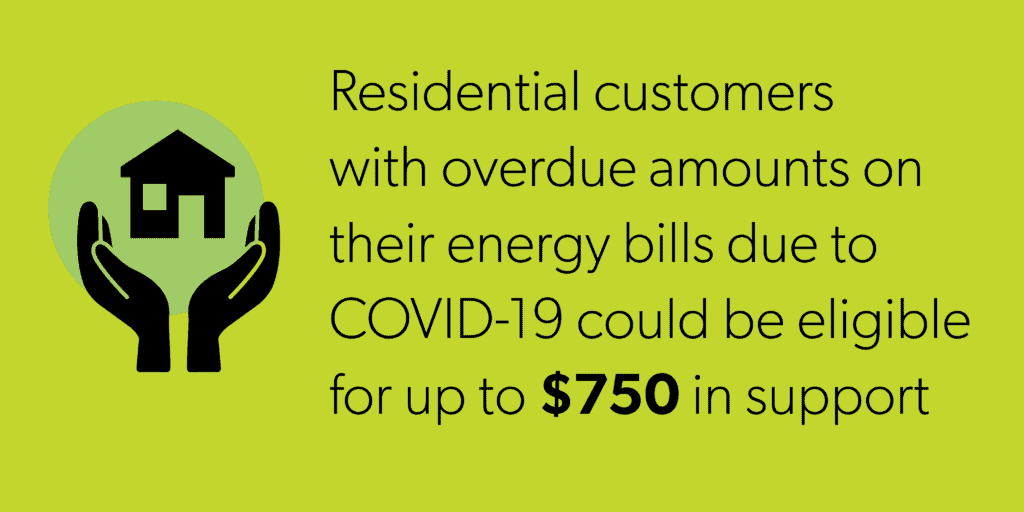 COVID-19 Energy Assistance Program (CEAP) for Residential Customers
Since the summer of 2020, the Government of Ontario has made $40 million available to support customers who have overdue amounts on their energy bills as a result of the COVID-19 emergency.
The COVID-19 Energy Assistance Program (CEAP) provides an on-bill credit to eligible residential electricity and natural gas customers to help them catch up on their energy bills and resume regular payments. Residential customers may be eligible for up to $750 in support and can apply for on-bill credits for both electricity and natural gas separately.
Customers who previously received CEAP support that was less than the maximum amount of $750 and have additional arrears may apply again, but their total on-bill credits cannot exceed that amount.
CEAP is being delivered by electricity distributors, gas distributors and unit sub-meter providers (USMPs).
Greater Sudbury Hydro customers must apply for CEAP directly through Greater Sudbury Hydro (Greater Sudbury Utilities). To confirm the name of your electricity distributor, check the name on your most recent electricity bill.
Have questions? Check out the FAQ below or contact us by phone at 705-675-7536 or email at customerservice@gsuinc.ca.
CEAP Eligibility Criteria
We updated the eligibility criteria on January 14, 2021, so that more customers may qualify for CEAP.
Residential electricity and gas customers are now eligible for CEAP if they meet the following criteria:
The customer has an account with an electricity distributor, a USMP or a natural gas distributor. Only the customer who is the account holder can submit an application for CEAP.
The customer has overdue amounts owing from one or more electricity or gas bills since March 17, 2020.
CEAP Benefit Amounts
CEAP funding is limited, and utilities and USMPs are expected to process applications in the order in which they are received.
Submitting an application for CEAP to your utility or USMP does not guarantee funding.
Eligible customers may qualify for a one-time CEAP credit for the electricity or natural gas charges that are overdue on the date of their application for CEAP, up to a maximum of $750.
How to Apply for a CEAP Credit:
It's easy to apply. All you have to do is complete and submit an application form directly to Greater Sudbury Hydro.
You must apply to Greater Sudbury Hydro. Contact us directly by phone at 705-675-7536 or email at customerservice@gsuinc.ca.
1. Email the form to customerservice@gsuinc.ca: ENGLISH | FRENCH
2. Send the form by mail: ENGLISH | FRENCH
Mail to: 500 Regent Street, PO Box 250, Sudbury, Ontario P3A 4P1
Utilities and USMPs are expected to process complete applications within 10 business days of receipt.
Have questions? Check out the FAQ below or contact us by phone at 705-675-7536 or email at customerservice@gsuinc.ca.
CEAP Frequently Asked Questions
Other Support Programs Available
If you aren't eligible for CEAP, you may still be eligible for lower-income energy support programs such as the Ontario Electricity Support Program (OESP) and the Low-Income Energy Assistance Program.
Every day, we work with customers who are having financial trouble, and we will continue that practice. If you are having trouble paying your bill, please be proactive and contact us. Start the conversation. Whether you are a residential or commercial customer, we want to help you get through this.
Even though our offices are closed to the public, we offer several ,convenient ways to pay your bill.
View Bill Payment Options